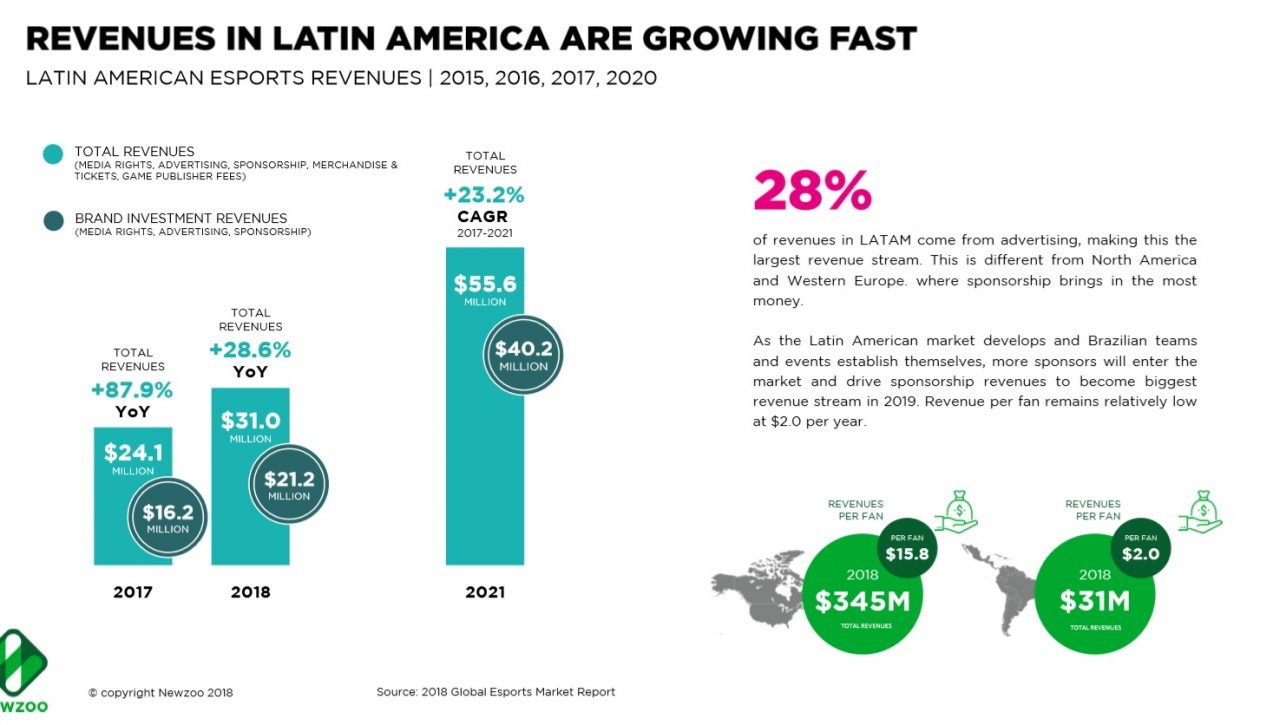 With the growth of eSports in Brazil, new brands and companies have been getting involved with electronic sports. The investment of companies on competitive gaming has grown exponentially. In 2017, brands alone were responsible for US$ 16.2 million – out of a total of US$ 24 million, according to a new research by Newzoo and Esports BAR.
In 2018, these investments have grown to US$ 21.2 million (out of US$ 31 million). This representes a growth of 28.6%. For 2021, Newzoo projects numbers that are almost double of today. Companies should be responsible for US$ 40.2 million in investments, from a total pool of US$ 55.6 million.
In Latin America, only 28% of revenue are from advertisement. And the average spent per user here is US$ 2. Even though it is quite low, the Evolution of this segment proves there are plenty of space to grow.
A successful case
In October 2017, the phone and internet company Vivo and the e-Sports team Keyd Stars renewed their sponsorship contract for 2 more years, rebranding the squad as Vivo Keyd. This agreement involves other four Keyd teams, including Clash Royale players and the female Counter Strike team.
The sponsorship is one of Vivo's strategic pillars for 2018, along with the creation of the content platform Games4U, where Zangado – one of Brazil's most important gaming influencers – publishes exclusive videos.
Other non-endemic brands, like the dating app Tinder, the energy drink Monster, and Old Spice, have already established a strong presence with eSports.
By Greg Candalez
Latest posts:
The soccer teams investing on eSports in Brazil
These are the most popular PC games in the world
About us
We are a unique communications agency, dedicated to a single market for the past 21 years: videogames. Promoting the interaction between companies and geek and gamer audiences, we currently support corporations from several different segments that wish to connect their brands to gaming and eSports fans, influencers, and journalists.