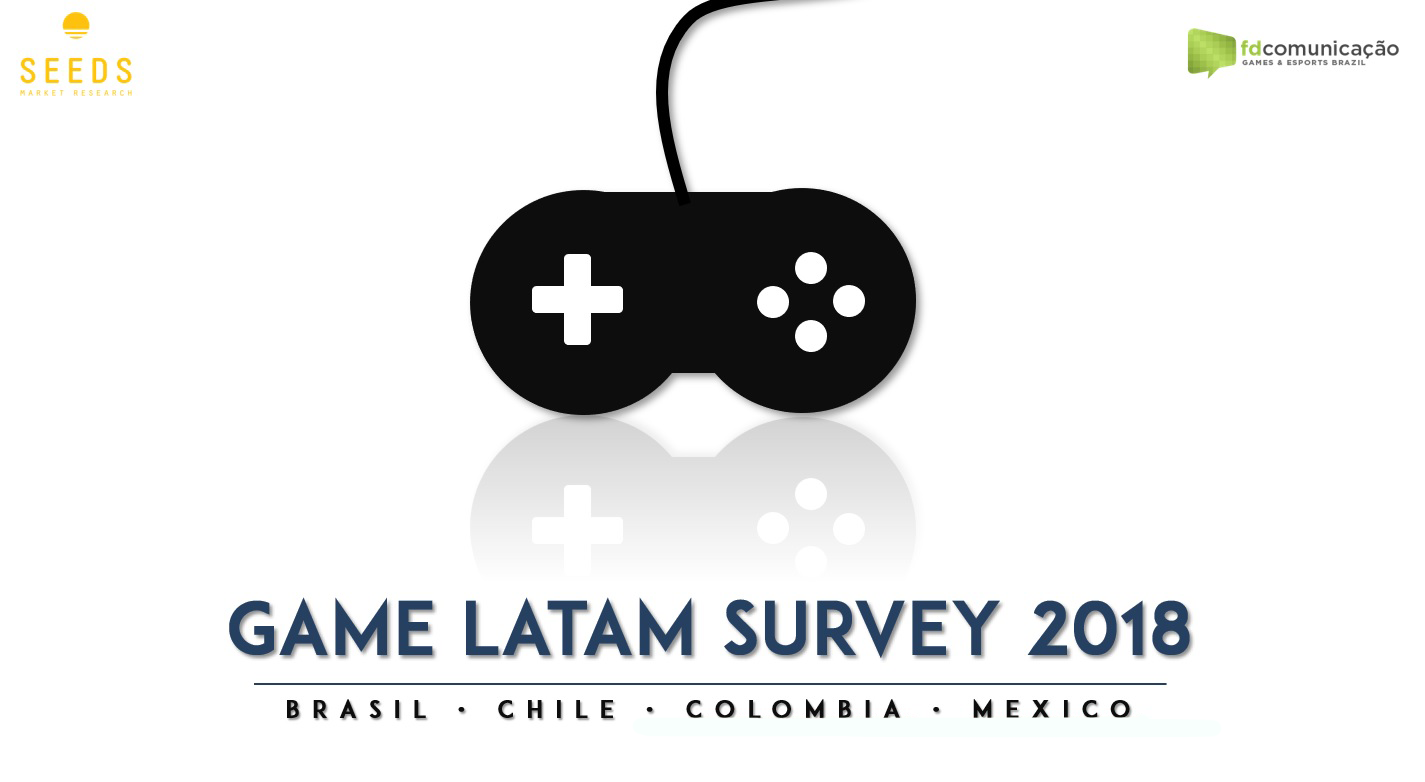 São Paulo, Brazil, November 1st, 2018 – The data of the 1st LatAm Game Survey have been announced today. The study was produced by Seeds Market Research and FD Comunicação in order to map out the consumption habits of gamers in Brazil, Mexico, Chile and Colombia.
This is the very first research made to identify the consumption habits of Latin-American gamers, according to Fernanda Domingues, CEO of FD Comunicação, a communication agency focused in videogames and e-Sports, 21 years in the market. She explains that "the lack of information about the local market, and the growing interest that global publishers have been demonstrating for Latin America have propelled the study." She adds that, an indication of this attention is that, nowadays, 90% of games launched in Latin America are localized in Portuguese and Spanish, or at least subtitled.
The study has concluded that 70% of Latin-American gamers play on mobile platforms. Followed by the computer (63%), and consoles (44%).  16% of mobile gamers prefer Apple's iOS, while the remaining leans towards Android and other systems.
The quantitative research was conducted in August 2018 with 2.211 gamers to identify the gaming profile of Latin-American gamers, taking into consideration crucial information such as income, purchasing power, sources of revenue, investment made on games, consumption habits, preferred forms of entertainment, and several other. The research brings the following topics: Gamers' Profile, Consumption Habits, e-Sports, and mobile platforms, PCs and consoles.
Individuals from middle, upper and upper-high social classes have participated in the study, aged 16 years and older. From the total, 43% are youths between 16 and 24; 33% are between 25 and 34; and 24% are older than 35.
The research has concluded that the Latin-American gamer plays in more than one platform; 61% of gamers are male; and the most popular genres are action/adventure, shooters and strategy. More information on the research can be found at FDComunicação.
About the companies who have produced this research:
Seeds Market Research is a modern and senior research company, with a team of professions who have been working for over 15 years in the market, who understand the gaming industry, and who are gamers. They believe in the power of ideas and of brands, and that's why they tailor-make their researches.
FD Comunicação is a different communication agency, and for the past 21 years has been dedicated to a single market: videogames. They offer consultancy, Marketing and PR. They are responsible for the communication of major publishers in Brazil. They promote the interaction between companies and the geek and gamer Brazilian audience and help companies of many different segments to connect their brands to the e-Sport fan.
Latest posts:
They Work with Videogames. And You?
The 10 Most Popular Streamers in Brazil
About us
We are a unique communications agency, dedicated to a single market for the past 21 years: videogames. Promoting the interaction between companies and geek and gamer audiences, we currently support corporations from several different segments that wish to connect their brands to gaming and eSports fans, influencers, and journalists.