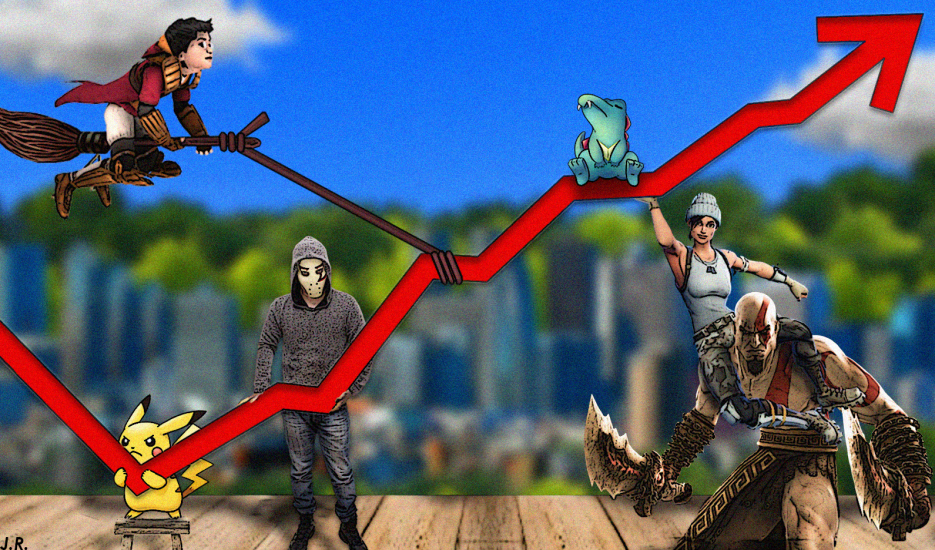 Today I'll tell you about the trajectory of professionals from very distinct areas and academic formation who have moved their careers onto the gaming and eSports industry.
Leandro Estevam "Montoya" was one of the very first e-Athletes in Brazil. In 2003 he played for the Intel Team at the World Cyber Games (WCG), competing in Battlefield 1942, at the Intel Challenge. To better grasp his pioneering, eSports debuted professionally in Brazil in 2012, when Riot Games came here.
Even today Leandro is known better by his nickname "Montoya" than by his birth name – in the digital and real world. "My 6-year-old nephew doesn't know me as Leandro, but as Montoya," he says. At 38, he is a business development executive in digital entertainment, now working at the Brazilian offices of French-group Vivendi (Gameloft and Universal Music Group), as head of business for Latin America. He previously worked at Terra Networks and TIMwe.
But I bring another curiosity: he worked at Monkey, one of the biggest net cafes chains we have had in Brazil, and then at Mentez, which developed social games for Orkut, like the famous Happy Harvest. That's where I met him. He was my client.
Leandro has a bacheor's degree in History, from the University of São Paulo; he studied Videogame Culture at PUC and has recently finished his MBA in Marketing at FGV. He has a message to all the aspiring youths who wish to work with videogames:
"In Brazil, working with games is easier if you work in administration, business, marketing, webdesign, community management, and customer care. Opportunities in creation and development are rarer as most companies have studios overseas."
He believes that being a gamer helps
"One time we prospected a monetization contract with a Korean company, and the competition between the interested companies was intense. What weighted in our favor was the fact that I knew several classic games that the Korean exec had also played! There is a global gaming culture.".
To back up his claim, we have two other examples of professionals who have graduated in completely different areas but have built their careers in gaming powerhouses in the United States and China.
Pedro Caramuru got promoted two months ago to Senior Manager, Competitive Gaming of PlayStation North America, after having worked six years with product and marketing at PlayStation Latin America.
He was the first Brazilian transferred to PlayStation headquarters, in 2015
He currently lives in the US, but he's recently been to Brazil to participate in the launch of God of War, the most memorable event in the gaming industry this year. There were even full orchestras. The game received 10/10 in most reviews.
Caramuru started his careers in the liquor industry, moving to games in 2012. Graduated in Advertising and Marketing at ESPM, with an MBA from FGV, he studied in Berkeley in 2016.
Another successful case is Henrique Campolina. He moved from Minas Gerais, Brazil, to China, ten years ago. Today he works at the largest gaming company in the planet, Tencent. Before joining videogames, Henrique worked for six years mediating business between Brazil and China – which even involved the Federal Government.
He took the opportunity to transform his hobby into work
With his knowledge of marketing and business, he studied the gaming Market and went on to occupy the positions of marketing manager, community manager and game designers. For the past two months he has been acting as the operations manager of Tencent, the owners of Riot Games, SuperCell, Epic Games.
Campolina graduated in Foreign Affairs in Brazil. In China he acquired a scholarship and studied Mandarin for two years at the Beijing International Studies University. Now he is fully proficient in Chinese!
Now, to bring in my second case, no one better than the "uncle" to prove "Montoya's" second theory. A pioneer on YouTube, when he started playing games to relax, influencer Zangado could not have imagined he would have become one of the biggest authorities in the country.
Eight years later, recognized as one of the most respected gaming influencers in Brazil, Zangado boasts 4 million subscribers on his channel, Zangado Games.
Across all his social media channels, he has 8 million fans. It's so many people that, two months ago, Zangado started doing live streams to interact with his public. He netted 1800 concurrent viewers playing Marvel's Spider-Man.
Those who wish to remember his time in front of the camera can see him live on Facebook
His live streams happen from Sunday to Thursday, from 10pm to midnight. There he plays with his fans, answers questions, talks about geek culture, shows movies and books he likes. Spreading his portfolio, two years ago he became a voice actor. Since he's still studying to get his official actor register, he voiced small roles in Gears of War (Microsoft), and the dragon Malefor from Skylanders Academy (by Activision and Netflix).
Zangado, or Thiago Silva, studied Civil Engineering in Cuiabá, his hometown, where he still lives. This is everything that is known about him because he preserves his secret identity by wearing a mask.
Guilherme Andrade has been a gamer ever since he can remember. Now he is the director of Seeds Market Research, and he's worked for 13 years at GfK, global reference in research. Last years, when he completed 15 years of expertise in market and consumer habits research he decided to have his own business and associated with a friend who had recently created Seeds. Then it came to him: why not work in an area he understands so deeply?
You guessed it; videogames. Guilherme and his friends are hardcore gamers, Platinum Trophies hunter. They now work on the very first Latin American research about the habits and behaviors of local gamers. The study will be launched soon in Portuguese and English. Almeida studied Advertising and Marketing at ESPM, and recently concluded his MBA in Business Intelligence at FIA/USP.
He spearheaded a pioneer research in LATAM about gamer's consumer habits
Another opportunity is when a foreign company needs to have a knowledgeable professional to expand its business. Ricardo Filó has been the country marketing manager of Logitech in Brazil for the past five years, having worked there for seven. He took advantage of the experience he acquired as Sony and PlayStation's product manager to transform Logitech into a reference in gaming peripherals – and more recently eSports.
Filó Inserted Logitech into the National eSport scene
For the past three years he's been commanding the eSports actions of the Swiss giant in Brazil, promoting championships like Logitech G Challenge, and sponsoring teams and events. INTZ e-Sports Club, three times Brazilian LoL champions, carries the Logitech G brand on their jerseys. This year, Logitech will make its debut at Brasil Game Show, where the grand finals of G Challenge LATAM will take place.
Filó is a mechatronic engineer, post-grad in Marketing at FAAP, and with an extension course in Strategic Administration at FGV, and in my opinion one of the most strategic professionals of the entire Brazilian games market.
Besides Zangado, there is another engineer, a lawyer, and an actor working with electronic sports. Leonardo Di Prado, CEO of Select e-Sports, is an entrepreneur by nature. He's worked as engineer for seven years and has recently decided to change areas. After visiting BGS in 2016 and signing his first eSports contract, he realized he could use his skills to work with eSports in Brazil.
Di Prado has been successful from the very beginning
As the VP of Business Development at Team One, he saw his very first professional League of Legends team conquer the Brazilian Lol Champion on their first try. For those who don't remember, Team One was that team of shy boys from Goiás, without one of those famous players of superstars in their line-up. They became the grand champions on their first year of existence, beating the traditional paiN Gaming, and later representing Brazil at the World Championship in South Korea. Today, Team One is sponsored by Dell and HyperX, and their CSGO team lives and plays in the United States.
This taste of victory charmed the agricultural engineer so much that he moved to São Paulo and is now spearheading Santos e-Sports. A team I guarantee you'll hear much about!
Marcelo Fadul, another entrepreneur, is the creator of the team that became Netshoes e-Sports, who has been competing on FIFA championships. Besides running the team, he also runs e-SportsFlix, a company responsible for one of the largest online platforms for virtual football tournaments, and responsible for the transference of Rafael "rafifa13" Salles Leite Fortes to Paris Saint-Germain, who became first Brazilian player to play for a European squad in eSports.
Fadul graduated in Foreign Commerce at University of Franca, countryside of São Paulo, and then graduating Law School, his career plan was to become a lawyer specialized in International Law. Fadul stumbled upon traditional sports by chance. In 2012 he interned at a Sporting Law agency, assisting with cases of the famous players he worshipped. In 2015, he moved on to work with football teams. And he noticed how eSports was growing.
He was a visionary and assembled a team, which whose naming rights was acquired by Netshoes
And last, but not least, an actor. Ricardo Juarez, the Brazilian voice of Kratos, the God of War, is a professional voice actor with a 26-year career. He's only been working with videogames for the past five. His first roles were Draven, Hecarim (LoL characters), and Kratos, for God of War Ascension.
What's the next character?
From Pará, but living in Rio de Janeiro, Ricardo is an actor, voice actor, and announcer. He got notoriety after giving his voice to classic cartoon Johnny Bravo's main character in 1996. He also voiced Melman the Giraffe in Madagascar, and he is the official voice of Will Ferrell in several films.
It goes without saying that his performance as Kratos in God of War was stellar. This may be old news, but the fact he'll be in the next Assassin's Creed is a scoop right there. Which character, though? Try to guess. Perhaps you'll get it right.
By Fernanda Domingues
---
About the author
Fernanda Domingues is a journalist by formation and entrepreneur by option. She's been running FD Comunicação for the past 21 years, where she's worked with the greatest gaming specialists in Brazil! FD Comunicação is an expert on eSports since 2012, when it announced the arrival of Riot Games and League of Legends in Brazil. We have recently worked with Team One during CBLoL. For the past 4 years, FD Comunicação has been the agency of Zangado. We have been working with Bethesda for the past two. And we were also responsible for the entire communication of Pokémon GO in Brazil. Other clients include Harry Potter, Alien Isolation, The Witcher 3, Naruto Online, and many others.
---
About us
We are a unique communications agency, dedicated to a single market for the past 21 years: videogames. Promoting the interaction between companies and geek and gamer audiences, we currently support corporations from several different segments that wish to connect their brands to gaming and eSports fans, influencers, and journalists.