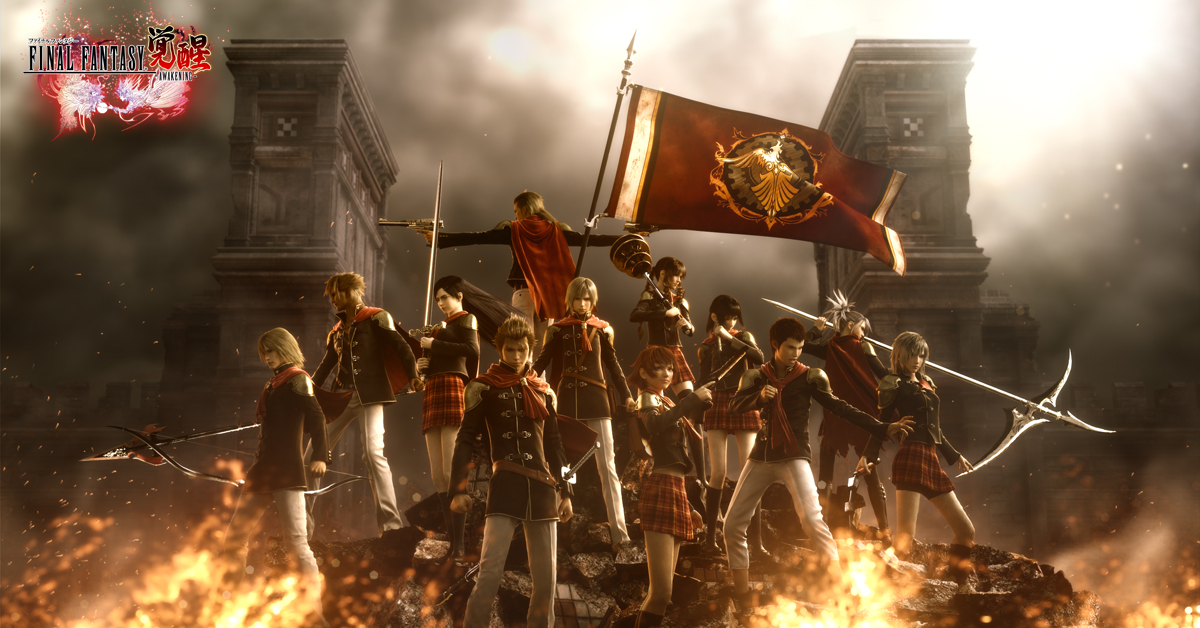 Brazilian PR agency FD Comunicação is responsible for the campaign of Final Fantasy Awakening, theofficial mobile game authorized by SQUARE ENIX. Developed by Oasis Games, the game launched in Brazil this week, completely in Portuguese.  Final Fantasy Awakening is a 3D Action-RPG game, available for Android and iOS. Designed especially for mobile devices, the game has inherited the unique visual style, narrative, combat systems and stunning graphics of the renowned Final Fantasy series.
Final Fantasy Awakening well-kept more than 200 high-quality cinematics and the original Japanese voice acting cast. It includes the original voices of Final Fantasy Type-0, including Hanazawa Kana (Deuce), Kaji Yuuki (Ace), Nakamura Yuuichi (Trey), and many other outstanding seiyuus. With this, the game will offer the most immersive gameplay experience to all players, fans of the series and newcomers.
The player will be able to use all 14 Class Zero warriors, directly from the original Final Fantasy-0, and also other new characters. Some of these 'Red Demons', as they are known, include Ace, armed with a deck of cards; Deuce, known as 'The Voice of Healing', who attacks her adversaries with the music of her flute; Rem, 'Blades of Shadow', who overpowers the enemy with a pair of daggers; and others.
About Final Fantasy Awakening
Final Fantasy Awakening is an Action RPG that features high-speed and tactical combat. Players will have to think strategically to know the best moments to use the specific abilities of the characters. Each of these heroes possess a unique set of skills and abilities that must be used at the right time to shift the battle to victory.
Final Fantasy Awakening has inherited and improved the original game's combat system. The battle formation follows a 1+2+2 scheme. This means that players will have a main hero but will be able to alter two Warriors of their formation freely, adapting their strategies accordingly. This represents an important tactical element that must be taken into consideration, depending on the characteristics of every adversary.
And, during the battles, players will be able to even summon the Eidolons to devastate the battlefield and bring victory to the heroes. Eidolons are gods of war, colossal and powerful creatures, and a staple of the Final Fantasy series, such as Ifrit, Shiva, Odin and Bahamut
Download now for Android here, or for iOS here.
Special Launch Code: A5CN0010000063Y
(redeem in-game for a 10 USD credit in the store)
Latest stories:
In Brazil, ESL One Belo Horizonte breaks records of public and audience
Epic Games to invest in Brazilian game 'The Path of alydra' by FinalBoss
Smartphones lead global games market to US$ 137.9 billion in 2018
About us
We are a unique communications agency, dedicated to a single market for the past 21 years: videogames. Promoting the interaction between companies and geek and gamer audiences, we currently support corporations from several different segments that wish to connect their brands to gaming and eSports fans, influencers, and journalists.